Anna Nicole. The name, like Marilyn or Madonna, is recognizable sans surname. Yet despite Anna Nicole's seemingly iconic status, in the aftermath of her untimely passing, there are far more questions than answers. Ultimately, one wonders who was "Anna Nicole," the person behind the constant facade and strange persona, presumably offered up for the benefit of the ever-present camera?
She was born Vickie Lynn Hogan on November 28, 1967 in Houston, Texas. Her mother, Virgie Mae Tabers, married her father, Donald Eugene Hogan, February 22, 1967; she was 15, he was 19. Her father then drifted off, leaving young Vickie Lynn to be raised by her mother and maternal aunt, Elaine. Virgie Mae would marry four more times between 1971 and 2000, setting an unfortunate precedent for her daughter.
The parallels between Vickie Lynn's early life and her mother's are apparent. Vickie was just 15 when she dropped out of her sophomore year at Mexia High School and got a job as a waitress at Jim's Krispy Fried Chicken in Mexia, Texas. There she met Billy Wayne Smith, the restaurant's cook and her future husband. They were married April 4, 1985, when she was 17 and he was 16. Their son, Daniel Wayne Smith, was born the following year.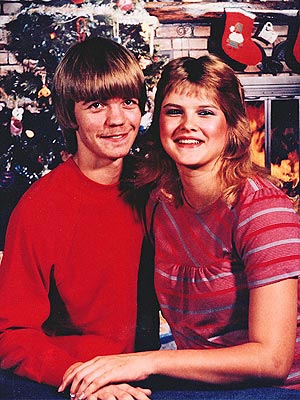 One imagines their Chicken House Romance as the stuff of a forgotten Lifetime movie, or Tarantino-like strange at best, she casting enticing glances over the fryer and he grinning sheepishly. "He was sweet and he was so cute back there, cookin' chicken," she remarked in a 1993 interview for
People
magazine. A promising start, to be sure; but, like her parent's tenuous union, the marriage wouldn't last. The couple separated in 1987 and, just as Vickie Lynn's own father had done, Billy Wayne disappeared, leaving Daniel fatherless. Determined to support her son, Vickie Lynn moved to Houston where she found work as a Wal-Mart check out girl and as a Red Lobster waitress before finally settling on a career as a stripper.
Yet even Vickie Lynn's life pre-Anna Nicole is not without controversy, as her mother has implied that the facts may have been exaggerated and romanticized by Vickie in an effort to receive greater publicity. Virgie maintains that Vickie actually spent most of her young life in Houston, where she was born, rather than the much smaller town of Mexia, and that they were not "dirt poor" but rather middle-class.
Despite such discrepancies, it is clear that Vickie Lynn's desire to provide for her son was not only very real but life-changing as well; her decision to become a stripper marked the beginning of her transformation to "Anna Nicole." Taking off her clothes meant she would use her voluptuous body, all 5'11" 155 pounds of it, and striking features to get her where she wanted to go. Thus began her love affair with the camera and with one J. Howard Marshall, an elderly Texas oil tycoon and billionaire.
Marshall, born in 1905, graduated from Yale Law School where he later took a job as assistant professor. He worked briefly for the government during WWII before finally entering into the oil business. Although Marshall was business savvy, he was somewhat less cautious in his romantic endeavors. Married twice (his second wife died in 1991), Marshall carried on a decade-long affair with an eccentric Houston socialite, Jewell Diane "Lady" Walker, a woman best known for her gold nails (painted with real gold) and her stock of Rolls-Royces, with which she coordinated her attire. "Lady" died in 1992 at the age of 48, and Marshall began the process of trying to retrieve the nearly 6 million dollars worth of assets he had given to her as gifts over the years after learning she had been with other men during their courtship.
It was in 1991, shortly before his previous mistress died, that Marshall met Vickie Lynn in a Houston strip club and began a relationship. They would marry in June of 1994, amid much controversy. In the meantime, however, she sent pictures of herself to
Playboy
in response to a search launched by the magazine and was subsequently chosen by Hugh Hefner to grace the March 1992 cover (under the name Vickie Smith). A centerfold followed in May, and in 1993 she was named "Playmate of the Year," at which time she finally became "Anna Nicole."
Anna's photos in
Playboy
garnered the attention of Guess? jeans advertisement executives who hired her to replace Claudia Schiffer in their ad campaign. The ads were black-and-white throwbacks to old Hollywood glamour and highlighted Anna Nicole's resemblance to sex symbol Jane Mansfield. In short, they were absolutely stunning.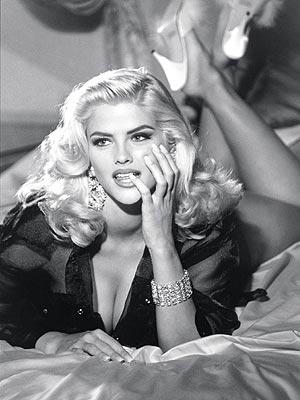 Smith herself commented at the time, ""I didn't know what Guess jeans were. I just shopped at Wal-Mart and Kmart and stuff like that."
But following this perhaps long-deserved run of good luck, Anna found herself embroiled in a 5 million dollar lawsuit against
New York
magazine in October of 1994. According to Smith, the magazine told her she was being photographed to represent an all-American-woman look. However, what they ultimately used was a photo which Smith claimed was taken for fun during a break from the actual shoot. The image ran as the cover and featured Smith in an unflattering pose, squatting in a short skirt and gnoshing on Cheez Doodles, under the headline "WHITE TRASH NATION."
On the heels of this came the death of her second husband, J.Howard Marshall in August of 1995, and thus began her lengthy battle with Marshall's son over his estate. To put it bluntly, he claimed she was a gold digger and deserved nothing, while Smith maintained that she loved her husband and that he had promised to look after her. Naturally, from the outside, it is hard to imagine what Anna saw in a man 62 years her senior, if not his billions. Yet Anna never wavered from her declaration of true love; it seemed she had convinced herself, if no one else, that she really did love Marshall. When he died, she celebrated his life with a memorial service that can only be described as a three ring circus.
People
magazine reported the following at the time:
"To begin with, the widow wore white – a dress with a plunging back and a neckline that plunged further. She also wore the white veil from her wedding. Her son, Daniel, 9 – from a brief teenage marriage to Billy Smith, a coworker at Jim's Krispy Fried Chicken – wore a white tuxedo and matching patent-leather shoes and carried a small black dog. J. Howard Marshall II lay in a burnished wooden casket draped in white roses and lilies, and adorned with a gold – glitter banner reading "From Your Lady Love." Nearby decorations included two white teddy bears and a framed picture with a label identifying it as Mr. and Mrs. J. Howard Marshall II. As harp music played, some 30 mourners gathered. Conspicuously absent was anyone who appeared to have known Marshall during his first 89 years of life. "
A staffer further commented of Anna's wishes that the service might have been even stranger:
"She wanted to take the coffin out to her ranch and set him up on the patio deck. I had to talk her out of it – I could just see him sliding into the swimming pool."
The year before her second husband died, Anna appeared in such well known films as
The Hudsucker Proxy
and
Naked Gun 33 1/3: The Final Insult
, but her film career nevertheless failed. In 2002 she launched her own reality television series,
The Anna Nicole Show
, which was received poorly by critics but achieved a cult following among fans. But the show did nothing to reveal the person who was Anna Nicole (or was she Vickie Lynn?) in her private life, when the camera wasn't rolling, because the camera was always rolling, and Anna was always acting, seeking attention for her often bizarre antics.
One imagines that if there is anyone who might have known Vickie/Anna (perhaps even better than she knew herself), it was her son, Daniel. He was, by all accounts, the love of her life and the person to whom she was closest. Known to be fiercely protective of his mother, Daniel Smith was perhaps the only individual who wasn't with Anna Nicole because he wanted her money, and was thus the only person she felt she could trust.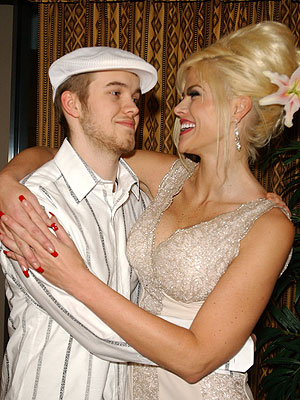 Those who knew her best feel Anna Nicole never recovered from her son's death, which itself is surrounded by nearly as much controversy as her own. Daniel was not known to have a problem with drugs. But why, then, was he taking two antidepressants in combination with methadone, a drug commonly used to ween heroin addicts? This is not a cocktail any doctor would in good conscience prescribe.
Furthermore, why did Anna Nicole commit herself to her lawyer and longtime friend Howard K. Stern in a ceremony just days after her son's death? The relationship came as a surprise to many and has likewise produced suspicion that Stern took advantage of Smith during a time in which she was incredibly vulnerable. Some of these allegations stem from Smith's family, from whom it should be noted she was estranged, and in particular from her mother, a woman Stern claims Anna "despised." Anna herself claimed that she pursued Stern and that he was "the shy one." Nevertheless, it seems Virgie Arthur made an eerie prediction regarding her daughter's death. In an interview that took place immediately following Daniel's death, Arthur told CNN's Nancy Grace:
"There was only three people in that [hospital] room. ... Now if Howard Stern marries [Anna] and she ends up dead, then who does the money go [to]?"
On the other hand, the commitment ceremony that Smith and Stern held last September 28th is reportedly non-binding. This means that, barring any other arrangements that may have been made in a will (if said will even exists), Stern will not receive any inheritance, making Anna's daughter her sole heir. Yet little Danielynn is currently in the care of Stern and his family and is at the center of a paternity dispute involving Smith's former boyfriend, photographer Larry Birkhead, as well as Zsa Zsa Gabor's husband, Prince Frederick von Anhalt, who now claims to have had a 10 year affair with Smith. Smith's mother has reportedly joined forces with Birkhead, allegedly fearing for the safety of the child as long as she remains with Stern. However, despite the suspicion and "conspiracy theories," the fact remains that foul play is not suspected in the death of Anna Nicole or her son.
What is clear here is that the death of Daniel changed Anna Nicole, and the pictures taken during her commitment ceremony illustrate her transformation. Ever-conscious of the camera, Anna Nicole rarely turned her gaze from the lens. Yet on her wedding day, she never faces the camera. Excessively tan rather than trademark porcelain, she hides behind giant false lashes and heavy makeup, looking further and further from herself.
Whether or not one loved Anna Nicole in life doesn't seem to matter much now; I'm not sure I thought of her at all, yet I find myself haunted by the pictures that resonate with something I can't quite place, like a word I've never heard, a name none of us ever knew.
R.I.P. Anna Nicole Smith, November 28, 1967 - February 8, 2007